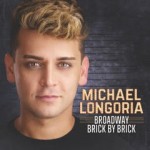 Original "Jersey Boy" Michael Longoria Shares His Impossible Broadway Dream
BROADWAY BRICK BY BRICK, A Latin-Influenced Collection of Broadway Classics
OUT MAY 6 on Broadway Records
Music Direction and Arrangements by John McDaniel
Produced by Jeffrey Lesser
Orchestrated by Jesse Vargas
Pre-Oder Available At BroadwayRecords.com
RECORD RELEASE PERFORMANCE AT JOE'S PUB AT THE PUBLIC MAY 2nd
March 15, 2016 –New York, NY – Original "Jersey Boy" Michael Longoria is gearing up to release BROADWAY BRICK BY BRICK May 6th on Broadway Records. He will celebrate the release with an intimate performance at Joe's Pub at The Public on May 2nd at 9:30pm. To purchase tickets, go to Joe's Pub Ticket Link. To pre-order the album, head to Broadway Records.
For BROADWAY BRICK BY BRICK, Longoria has partnered with a dream team of musical greats including: Grammy winner John McDaniel (Patti LuPone), who music directed and arranged, Grammy winning producer Jeffrey Lesser (Barbra Streisand, Kristin Chenoweth), and orchestrator Jesse Vargas (Clay Aiken).  The release offers Broadway's biggest songs, featuring Longoria's soulful voice and incorporating his Latin roots.
Longoria recalls the feelings which ultimately prompted the release.  "I didn't dare look back as I turned to walk down a long hallway at Los Angeles International Airport to board a plane headed for New York City. I kept telling myself to keep walking as tears streamed down my face, knowing that it was time to go find myself in the Big Apple.  It feels like a lifetime since I was that kid, claiming his destiny, boarding pass in hand.  I wanted to tell that story…  how a little mariachi boy chased the impossible dream and found a home onstage in New York City."
About the release, John McDaniel raves, "We've had so much fun putting this collection together and I'm so proud of Michael." Jeffrey Lesser shares, "When I first met Michael Longoria, I was immediately taken with his energy and passion. He has found a way to incorporate his personality into fresh, new interpretations of classic Broadway songs. He has poured his heart into these inspired performances."
Each song offers a snapshot of Longoria's journey, starting with "Home" from The Wiz, where he starts his tale as a child, listening to his mother's Mariachi music played on an old piano she bought from a priest in the 70s.  "Maria" from West Side Story sets the stage for his very first audition in high school. "The Impossible Dream" reflects his efforts to acknowledge his immigrant father's wishes but to ultimately follow his own path, to New York and his dream of Broadway.
Longoria began his career as a Mariachi singer in his hometown of Los Angeles, before moving on to stage productions. At age fourteen he was accepted to the prestigious Los Angeles County High School of The Arts, and then earned a scholarship to NYU's Tisch School of the Arts. He is best known for his portrayal of Frankie Valli in the acclaimed production of Jersey Boys. Longoria is currently performing in The Midtown Men, the subjects of two PBS specials including "Meet The Midtown Men."
BROADWAY BRICK BY BRICK Track Listing:
"Home" from The Wiz
"The Sound of Music" from The Sound of Music
"Maria" from West Side Story
"Music and the Mirror" from A Chorus Line
"The Impossible Dream" from Man of La Mancha
"Corner of the Sky" from Pippin
"Can't Take My Eyes Off You" from Jersey Boys
"Being Alive" from Company
"Tell Me on a Sunday" from Song and Dance
"Thank You for the Music" from Mamma Mia!
"As If We Never Said Goodbye" from Sunset Boulevard
"Over the Rainbow" from The Wizard of Oz
Michael Longoria Facebook Fan Page