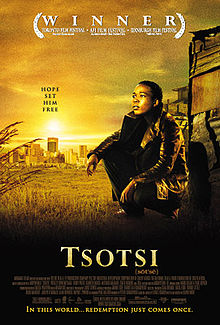 Directed by Gavin Hood.
Adapted from a novel by Athol Fugard, the celebrated South African playwright.
Tsotsi played by Presley Cheneyagae
Tsotsi, our antihero/hero, has forgotten his real name as he has tried to forget the pain of his early life.
We see the townships of Johannesburg where millions of people live in shacks and stand in line each day
to get water from public fountains. People of the townships survive marginally, and many suffer great
hardships.
Tsotsi and his small gang of three other young men get money from petty crimes which escalate into
murder. The members of the gang react in different ways to a senseless killing one of them
(Butcher)commits. The word "decency" is used in the movie, and it represents an important theme.
Though Tsotsi is a thug(which is what his name means), there are parts of him that are still soft and
caring.
Tsotsi has tried to shut off his feelings because of his childhood trauma. Flashbacks give us an idea of
what he came from. But sparks of humanity enter his life, and we see him change in the course of the
movie. His life is altered when during a car-jacking, he finds out that there is a baby in the back
seat of the car
The movie gives us many aspects of the human condition: violence, friendship, loyalty, protection and
love. Tsotsi represents all of these qualities. Watching him change as a person and let life in is uplifting
and hopeful.
The film won the 2005 Academy Award for Best Foreign Film. It was also nominated for a Golden Globes
Award in 2006.
There were two alternate endings for the film. As you watch it, guess what they might have been. The
actual ending is less violent. Make sure you see this excellent film. It will touch you.
Reviewed by Judy Kay