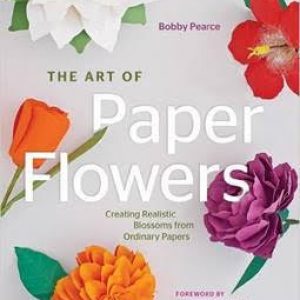 THE ART OF PAPER FLOWERS
Creating Realistic Blossoms from Ordinary Papers
A Craft Book Written by
Tony Award Nominated Costume Designer
BOBBY PEARCE
(TABOO, THE MARVELOUS WONDERETTES)
Featuring a Foreword by
ROSIE O'DONNELL
Published by Creative Publishing International
To Be Released In Hardcover and Digital Formats
On Monday, August 15, 2016
Visit
theartofpaperflowers.com
THE ART OF PAPER FLOWERS Creating Realistic Blossoms from Ordinary Papers, an artistic how-to book written and created by Bobby Pearce, Tony-nominated costume designer (TABOO) and well-known crafting enthusiast ("The Rosie O'Donnell Show"), will be released internationally in hardcover and digital formats by publisher Creative Publishing International on Monday, August 15, 2016.
Featuring a foreword by Rosie O'Donnell, THE ART OF PAPER FLOWERS contains all the basic information needed for readers to make their own impressive, incredibly realistic-looking – and inexpensive — flower bouquets completely out of paper. With thirty-five flowers included, THE ART OF PAPER FLOWERS makes it easy for anyone to create beautiful roses, orchids, tulips, and more … with each pattern accompanied by a complete list of materials required, step-by-step instructions for creating the flower, original paper-folding techniques from the author, full-size patterns, and color photos for reference. Additionally, throughout the book, there are interesting bits of trivia and folklore for each delicate flower. Whether you're creating gifts, decorations for an event or home decor, THE ART OF PAPER FLOWERS will have you arranging stunning flowers – that will never wilt — in no time!
From the foreword by Rosie O'Donnell: "I love this book. Not because my friend Bobby–or as I like to call him, "Tony Award-Nominated Costume Designer Bobby Pearce"–wrote it, but because it's exquisite and beautiful . . . He's the secret sauce that made my craft book the success that it was . . . He's the real deal, and so is THE ART OF PAPER FLOWERS. Enjoy it in as many ways as you like: for the beauty in its pages, the humor and heart in its words, or the patterns and instructions that will let you create crafts as beautiful as Bobby's. Me, I'm going for all three."
Bobby Pearce is an acclaimed costume and wig designer, television producer and author whose theatrical credits include: the Broadway productions of the Boy George musical TABOO (2004 Tony Award and Outer Critics Circle Award nominations for Outstanding Costume Design), and BETRAYAL, starring Juliette Binoche (Associate Costume Designer); New York productions of THE MARVELOUS WONDERETTES (the long-running original production and the current revival at the Kirk Theatre, as well as its sequels WINTER WONDERETTES and THE MARVELOUS WONDERETTES CAPS AND GOWNS), the award-winning solo play THE SYRINGA TREE (also in London), BEHIND THE BEAT (starring Vicki Sue Robinson), and THE CHAOS THEORIES (2008 N.Y. Innovative Theatre Award for Best Costume Design); the National Tour of THE WHO'S TOMMY; THE CHILDREN OF EDEN at the Kennedy Center in Washington, DC; as well as SIGNED, SEALED, DELIVERED, starring Billy Porter, at the Venetian Hotel in Las Vegas.  His TV design credits include the multiple award-winning "Rosie O'Donnell Show" and Logo's "The Big Gay Sketch Show" (which featured the talents of Kate McKinnon, Colman Domingo, and others); and his work in film includes Let It Snow (starring Bernadette Peters) and The Big Gay Musical (starring Lena Hall).  Additionally, he created three gowns for Liza Minnelli's appearance in Michael Jackson's 30th Anniversary Celebration; he also designed Chita Rivera's concert tour CHITA, AND ALL THAT JAZZ.  Bobby has created looks for numerous world champion American ice dancers such as Evan Bates (2014 Olympic Games in Sochi) and Maia and Alex Shibutani, as well as for such performers as Elizabeth Ashley, Petula Clark, Glenn Close, Sheena Easton, Larry Gatlin, Marla Maples, Bebe Neuwirth, Faith Prince, Martin Short, Leslie Uggams, and Tracey Ullman. He also had the privilege to design for the legendary artists Bea Arthur, Cyd Charisse, Madeline Kahn, and Gwen Verdon.  Bobby has a longtime association with Rosie O'Donnell and has made numerous appearances — both doing crafts and performing with Ms. O'Donnell — on "The Rosie O'Donnell Show" and "The Rosie Show" (for which he also served as producer). He appeared as a regular on ROSIE RADIO (O'Donnell's daily morning radio show) on Sirius XM Radio.  Born in Miami, he holds a BA from Barry University and an MFA in Design from Wayne State University. He lives in New York City. Visit: www.bobbypearce.com.
Rosie O'Donnell is an Emmy Award-winning television personality, actress, and comedian, a New York Times bestselling author, a mother of five, and a wildly enthusiastic crafter. She's also the founder of Rosie's For All Kids Foundation, which supports early childhood care and education programs, as well as Rosie's Theater Kids (rosiestheaterkids.org), a program that brings musical theater to New York City public school children.
THE ART OF PAPER FLOWERS released in hardcover and digital formats by publisher Creative Publishing International on Monday, August 15, 2016. With retail prices of $19.97 – $26.99 (hardcover) and $12.99 – $17.99 (digital download), the book will be available in the U.S. from retailers Amazon, Barnes & Noble, and Indie Bound.  Visit theartofpaperflowers.com