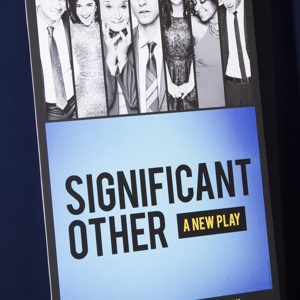 Gideon Glick is a standout as Jordan a hyperactive, adorable catch. The problem all of his childhood/College girlfriends are at the age of falling in love and getting married. They are all in their late 20's and finding love. All except Jordan who pines for the new guy at work. Jordan wants to fall in love and find his "SIGNIFICANT OTHER" He spends time with his Grandmother played by Barbara Barrie who is always asking  How is your social life and have you met your Significant other? Jordan has not and wants to find his soul mate. He is lonely and sad and keeps losing his three best friends to straight men. None are available to party with him like they did in the past. Will Jordan find his Significant Other? Will he find love?
I saw the show at the Roundabout Off-Broadway and this past week on Broadway. The cast is all strong especially Gideon Glick and Sas Goldberg who plays  Kiki, the first to get hitched and after pregnant. She plays a pregnant Mom who drinks while she is pregnant and before at her wild bachelorette party.
The show is dark but a must see. We all want to find our "Significant Other, " and not all of us do. Some of us never find love and end up alone, but we strive to find the perfect mate.
Here is hoping Jordan hooks up with the love of his life. The play does not let you know if he ever does but one can hope Jordan finds love and happiness.
Corine Cohen  Broadway Showbiz