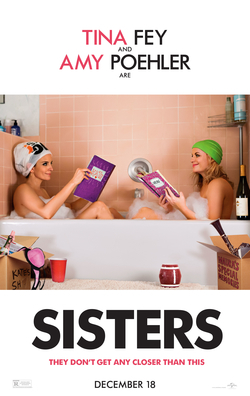 I adore Tina Fey and Amy Poehler and many cast members of SNL. This new movie with the duo shows their comedic chops especially when they are not in the party scene. The movie is brash, silly and it seems old and tired. Amy Poehler plays a divorced nurse, and Fey plays an unemployed Mother of a teenage daughter going nowhere. The daughter leaves Fey because she is a party animal and she feels like the Mother and goes to live with her Aunt played by Poehler. Poehler is the responsible Sister.
Poehler speaks to her parents via Skype and finds out that her parents want both Sisters to come home and clean out their childhood rooms as the house is for sale and the pair decide to have one last party before the sale. The party becomes out of control, and everything goes wrong. ( Washer and dryer bubbles all over the floor, drugs, the pool becomes a sink hole.) The film is not as funny, and the party scene goes on way too long.
The best part of this movie is I saw many theater stars in small roles: Ann Harada, Jennifer Simard, Brian d'Arcy James,  Daniel Breaker and many others are in this film. The film could have been a lot better, but I had a good time. I just wish they could do a better movie because they deserve it. Hoping the pair will come back to host the Academy Awards. They are very funny and have good chemistry, but the script  does not live up to their talent and the talented cast in the film are under-used.