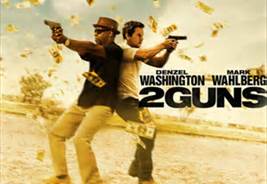 The only two things that differentiates "2 Guns" from dozens of other action movies are Denzel Washington and Mark Wahlberg whose bromance reminds one of the banter between Bruce Willis and Cybill Shepherd in "Moonlighting" and here you wait for the two guys to walk off into the sunset, holding hands, into "2 Guns 2". There are a lot of crotch jokes, certainly double entendres, but done with an ease between the guys that keeps you continuously smiling.
At one point I thought I may have walked into "White House Down" or "Lethal Weapon 10" as there are cops, robbers, the CIA, FBI, the Navy, houses being blown up, car races and crashes, windows smashing all over, a drug lord, double crosses, helicopters crashing, lots of gunfire, a fairly high body count and everything else you have seen before in action movies.
One of the new things in this movie is Washington and Wahlberg wrestling in the desert that is very funny and at the same time sexier than anything you saw in "Brokeback Mountain". These two actors obviously enjoyed working together and in many scenes share that joyful play with the audience.
The story is really immaterial but there is one by the screenwriter Blake Masters that at times is blurred but he certainly knows how to write one liners. The director Baltasar Kormakur keeps the action going, interesting and has an excellent cast, In addition to the two stars there are Edward James Olmas, Bill Paxton, James Marsden, Fred Ward and Paula Patton.
"2 Guns" is far from a classic but anyone who likes the two leads shouldn't miss this and the ending of the old Hollywood, "Happily Ever After"!