" The Two And Only" Video! Monkey Joke!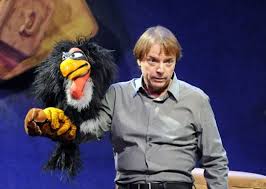 http://indemand.demo.cdops.net/stg1/v5.3.2/product.html?productId=134418
This is the greatest news in months. If you saw Jay Johnson's " The Two and Only" On or Off Broadway you can now own a video of the show starring Nethernore, (AKA BIRD OF DEATH) Darwin the monkey who does not want you to touch his heiny and the famous BOB from Soap. The show was one of my absolute favorites ( I went seven times and paid 5 times)
This video is the perfect gift for children of all ages and adults that love a great show. Get your copy you wont regret it.
Buy a DVD NOW!
http://www.amazon.com/Jay-Johnson-The-Two-Only/dp/B00LXDQ8R2/ref=sr_1_7?ie=UTF8&;
Tony Award winning Jay Johnson: The Two and Only! Coming to VOD and DVD
It was announced today that Jay Johnson: The Two and Only! will have its television premiere through VOD on August 9, 2014. Produced by Montivagus Productions and Jaysons Imagination and distributed by Pop Twist Entertainment, Jay Johnson: The Two and Only! will be offered in 54 million cable and satellite homes throughout the United States and Canada. InDemand will also sell the program on a download-to-own basis in advance of its DVD release on December 16, 2014.
The theatrical memoir and stand-up comedy show features Jay Johnson, one of the world's most recognized ventriloquists. Johnson showcases his talent with many unique characters, each with hilarious and heartfelt personalities, stories and anecdotes executed with perfection and sure to entertain. Johnson's comedic voice and range is showcased through characters including Darwin the Jazz Monkey, Nethernore the Bird of Death and Long John LaFeat (a severed head!) to name just a few. The soon to be released comedy film is the recorded version of Johnson's Tony® Award-winning Broadway show of the same name. To date, Johnson has the distinct honor of being the only ventriloquist to be honored with a Tony® Award for Special Theatrical Event. The show went on to have a highly successful nationwide tour, with the filmed version being directed by Bryan W. Simon, produced by Marjorie Engesser, and shot at the historic Thalian Hall in Wilmington, North Carolina.
Pop Twist Entertainment has also licensed US DVD rights to MVD Entertainment Group, under the blanket output deal between the two. MVD exclusively represents thousands of audio and visual products worldwide for DVD, Blu-ray, CD, vinyl, and digital rights, and distributes a growing line of merchandise.
"The quality of this award-winner, combined with the marketing expertise of InDemand and MVD will make for a great launch of worldwide sales on this terrific, humorous and authentic show," says Pop Twist Entertainment President Doug Zwick.
Jay Johnson's rise to fame came while playing the schizophrenic role of Chuck and Bob on the groundbreaking TV sitcom, SOAP. He also had memorable guest appearances on audience loved series including CSI: Crime Scene Investigation and That 70's Show, amongst others.
"What a treat! Jay Johnson dazzles us with his magical gifts and comic savvy." — Leonard Maltin
"One of the funniest shows of the year!" — The New York Times
"Serious laughs… a surprisingly moving as well as highly funny evening." — The Hollywood Reporter
"Very entertaining! A sheer feat of virtuosity!" — Clive Barnes, New York Post