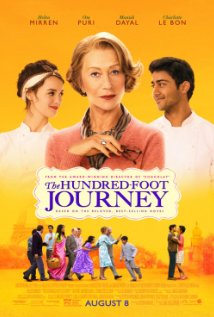 The film is about an Indian family who must relocate when their Indian restaurant goes up in flames. They rebuild in France across the street from a Michelin star winner. The two restaurants are competitors and you need to see the film to find out what happens. See this film it is the must see film for foodies.
1. The acting is perfection.
2. The film is shot beautifully. ( It made me want to go and see France!)
3. It is a great story!
4. It shows passion in every detail of the film.
Do not miss this spectacular film. It gets 4 stars. We are not Michelin but we are foodies and this film is a masterpiece. Opens August 8th,
Corine Cohen