" Magic In The Moonlight"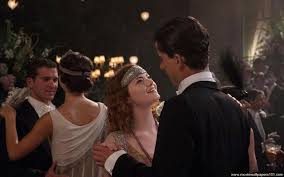 sPhoto production shot by Sony Pictures.
Woody Allen delivers magic in his new film " Magic In The Moonlight"
The film is shot in France and the scenery is both visually stunning and magical from the details of the mansions, the costumes and the actors. Emma Stone, plays Sophie a beautiful psychic medium that has Brice, Hamish Linklater's character all googly eyed. Brice is a romantic dashing millionaire who has proposed to Sophie and offers her travel, a lavish lifestyle and a gorgeous tall dark and handsome man.
Sophie becomes smitten with Stanley (Colin Firth) even though he does not believe she has psychic powers and the two battle each other until Sophie gets Stanley to believe she has magical powers.
A must see film for Woody Allen fans. All of the actors shine especially Hamish Linklater, Emma Stone and Colin Firth. The film opens on Friday don't miss it.