http://www.youtube.com/watch?v=xwzM2rWwaZk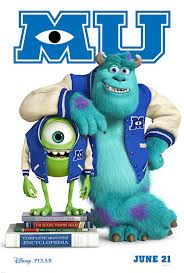 Monsters University AKA Monsters, Inc. 2
In Movie Theaters June 21, 2013
Monsters University release date June 21, 2013
The About face: The sequel, more like a prequel, to the Disney/Pixar movie Monsters Inc.
The Wid side: A look at the relationship between Mike and Sulley during their days at the University of Fear — when they weren't necessarily the best of friends.
The Wild side: Monsters Inc. was released in theaters in 2001. Monsters Inc. grabbed more than $255 million, which, when adjusted for inflation, would be over $300 million today.
The Pixar short film, Blue Umbrella, plays before Monsters Univesity in all theaters, beginning June 21, 2013.
Watch the Blue Umbrella trailer.
STARRING THE VOICES Of: John Goodman, Billy Crystal, Mary Gibbs, Steve Buscemi
DIRECTOR: Pete Docter
STUDIO: Disney/Pixar
RATING: PG (For mild adult humor)
MONSTERS UNIVERSITY Official Website: www.monstersuniversity.com