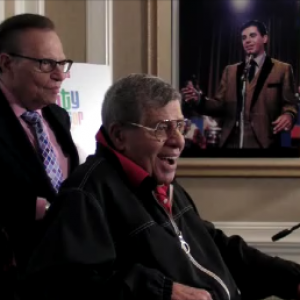 Corine Cohen was invited to cover a meet and greet with comedic genius and legend Jerry Lewis this is part 1. Part 2 coming soon.
This video was made possible by The Friars Club and Warner Bros.
Jerry Lewis told us that The Nutty Professor will be moving to Broadway in November of this year. My question can you share who is in the cast. His answer no!
I can't wait to see the show on Broadway as I am a big fan of the film. There is a new box set with Jerry's top films " Cinderfella" " The Nutty Professor" and " Errand Boy" The new box set is a celebration of his 50 years making incredible films. Come back for part 2. I was among a group of 50 plus photographers that were invited to shoot this incredible man. In doing research on Jerry Lewis I came across a very funny skit he did in 1971 on the Carol Burnett show I asked Jerry what was it like to work with the incredible performer Carol Burnett who is my favorite comedic actress and he replied it was great she is a comic genius. I said you gave her some kiss in that scene and he said I could kiss her all day.
Corine Cohen
In watching his films what impressed me most about Lewis was not only how funny he is but what an incredible performer he is. A triple threat: A great singer, dancer and comedic genius that is Jerry Lewis.
One funny fact I bet you didn't know. He grew up poor and had holes in his socks and now he never wears the same pair of socks twice as he never wants to have a hole in his sock this shows how successful he has become. Pretty funny!