Yes, I Am A Quiet Fanalo.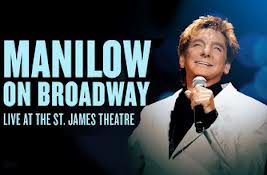 I admit as a kid my Mother and Father had 8 track cassettes of Barry Manilow and I listened to it often. Barry got me through the rain, took me on an adventure at the Copa and introduced me to someone named Mandy.
If you are like me and a FAN-ALOW. You will really enjoy Barry Manilow's concert playing on Broadway. It is the same concert he had at Radio City Music Hall last year but it is a smaller more intimate house and worth it's weight in gold.
The millions of women Fanalow's were very happy tonight. Not only were they screaming, taking videos and photos and screaming out but they gave every song a standing ovation.
Manilow knows how to charm his audience and his target audience were having a wonderful time.
My only problem with this show were some of his loud fans. Listen to Patti LuPone. DON'T TAKE VIDEO. It is very intrusive and don't scream at Barry as it is very rude and off putting. Do buy a ticket and dance but remember you are not in your living room you are at a show with a large audience.
Corine Cohen