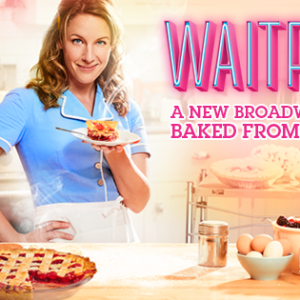 Featuring a book by Jessie Nelson, score by singer-songwriter Sara Bareilles, choreography by Lorin Latarro and direction by Diane Paulus. "Waitress" opened on April 24, 2016, at the Brooks Atkinson Theatre (256 West 47th Street). The show is based on the movie, and  has an incredible cast:
Waitress stars Jessie Mueller as Jenna, with Eric Anderson (Cal), Nick Cordero (Earl), Christopher Fitzgerald (Ogie), Drew Gehling (Dr. Pomatter), Kimiko Glenn (Dawn), Dakin Matthews (Joe), Keala Settle (Becky), and Charity Angél Dawson, Thay Floyd, Henry Gottfried, Molly Hager, Aisha Jackson, Max Kumangai, Jeremy Morse, Ragan Pharris, Stephanie Torns and Ryan Vasquez.
Christopher Fitzgerald takes a small part (Ogie) and stands out as a dorky, adorable man in love. Whenever he is on stage, you can't take your eyes off of him. He even does an adorable dance of love which was the highlight of the show for me. Jessie Mueller, who was in "Beautiful" on Broadway, has a wonderful voice and shows her acting chops.
Nick Cordero plays Jenna's abusive husband that lives off of her and steals her hard-earned tip money. He does all he can with the role and people even booed him at the curtain call.
"Waitress, " tells the story of Jenna, a waitress and expert pie maker in a small town, who dreams of a way out of her loveless marriage. A baking contest in a nearby county and the town's new doctor may offer her a chance at a new life while her fellow waitresses offer their recipes to happiness, but Jenna must find the courage and strength within herself to rebuild her life.
The show is a perfect ladies night out and it was put together by an all female dream team. I can't wait for the CD to come out so I can listen to the music again.
The show has an incredible cast, great choreography by Lorin Latarro and a splendid score. The smell of pie will make you hungry, and you can even buy a piece of pie at the theater.  It is a sweet way to spend an evening and you don't need pie to feel satisfied!