The Twyla Tharp Fiftieth Anniversary Tour concludes its 10-weeks of cross–country performances with a week-long seas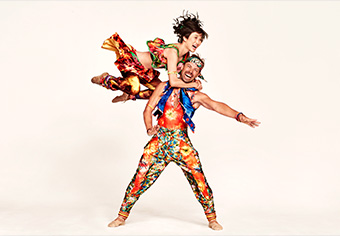 on at the David H. Koch Theater at Lincoln Center, November 17-22, where it will present a double bill of New York premieres: "Preludes and Fugues" and "Yowzie." Both works were commissioned in part by The Joyce Theater, which is presenting the Tharp season at The Koch."Preludes and Fugues" is set to Bach's "The Well-Tempered Clavier" Volumes 1 & 2, and "Yowzie" to a selection of music from "Viper's Drag," a compilation of American jazz music. Each show is introduced by a fanfare, with another introducing "Yowzie;" both are by John Zorn. Santo Loquasto designed the costumes for all the dances, and James Ingalls, the lighting. In a program note describing the shows, Tharp says: "Simply put, 'Preludes and Fugues' is the world as it ought to be, 'Yowzie' as it is. The 'Fanfares' celebrate both."The company is comprised of many dancers who have long histories with Tharp, appearing in her Broadway shows, "Movin' Out," "The Times They Are A Changin'" and "Come Fly Away," as well as in her various dance troupes and in the ballet and contemporary dance companies for whom she created new works. They are John Selya, Rika Okamoto, Matthew Dibble, and Ron Todorowski. Newer to Tharp are Daniel Baker, Amy Ruggiero, Ramona Kelley, Nicholas Coppula, Eva Trapp, Savanna Lowery, Reed Tankersley, Kaitlyn Gilliland, and Eric Otto.
The Choreography was brilliant and the dancers very talented. "Yowzie" was very funny and interesting. I loved her Choreography in " Movin Out" on Broadway and went several times. I also loved her choreography and worked with Barishnikov many years ago. Hoping that Twyla Tharp will choreograph a new show on Broadway as she is very talented and she has made the way for other women choreographers. Catch her last show at the David Koch this afternoon.