The Last Five Years: NJ Production.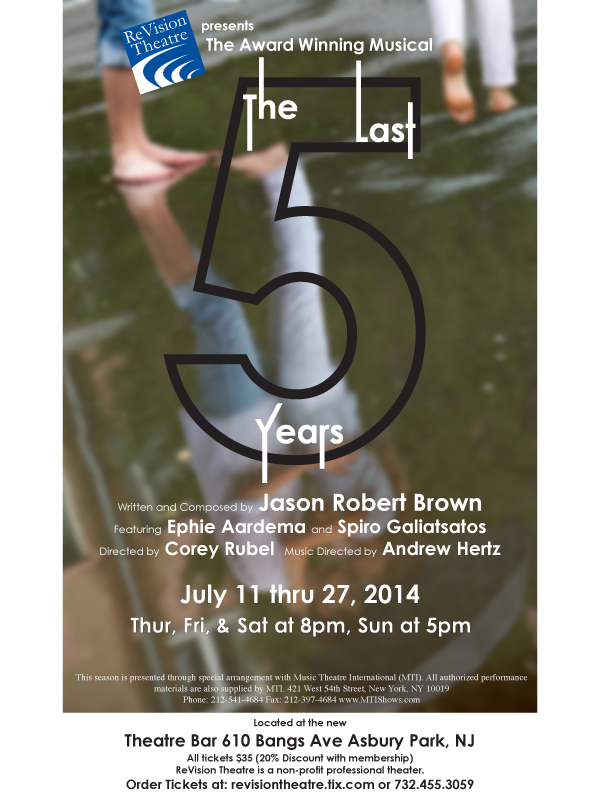 The Last Five Years
Theatre Bar
600 Bangs Avenue
Asbury Park, NJ 07712
Playing thru July 27
Tickets: www.RevisionTheatre.org
I have seen three different productions of Jason Robert Brown's The Last Five Years.
The first time, I wanted to punch Jamie and had no idea what Cathy would ever see in him.
The second time, I thought Cathy was portrayed as incredibly mentally unstable and I had so much sympathy for Jamie.
It wasn't until the third production I saw, at the ReVision Theatre in Asbury Park, New Jersey, directed by Corey Rubel and starring Spiro Galiatsatos and Ephie Aardema, that my emotions were equally torn. I cared about and felt for both of them, which made the romantic and funny parts all the more romantic and funny, and the ending devastating.
In the story, we see five years of a love story told from two perspectives: Struggling actress and "shiksa goddess" Cathy tells the story from the end and goes forward. Overnight sensation Jewish author Jamie relays it from the beginning. The couple meets only once for their wedding duet in the very middle.
The show is presented in a bar, and the bar is almost as much of a character as Jamie and Cathy are. When Jamie sings that things are "Movin' Too Fast", he leaps onto the top of the bar and when the couple exchanges wedding vows in "The Next Ten Minutes", they are sitting on top of a pool table.
Galiatsatos brings to mind a younger (and Greek-American) Raul Esparza. His voice is flawless, and he is hilariously funny, but his heartbreaking final number is absolutely gutting. Aardema, who last appeared in Broadway's The Brides of Madison County,  is lovely, with a booming voice and relatable vulnerability.
I noticed a young woman across from me laughing hysterically at all the right parts, and mouthing delightedly along with the lyrics. However, I also saw her pull out a tissue and openly weep during the final number, when a giddy Cathy is telling Jamie "goodbye" after their first date, and Jamie is telling Cathy "goodbye" forever as they divorce.
I think that is exactly the punch that a perfect production of The Last Five Years SHOULD deliver, and the ReVision does just that.
Take a trip down the shore for the beach, and stay for this absolutely brilliant and heartbreaking production.