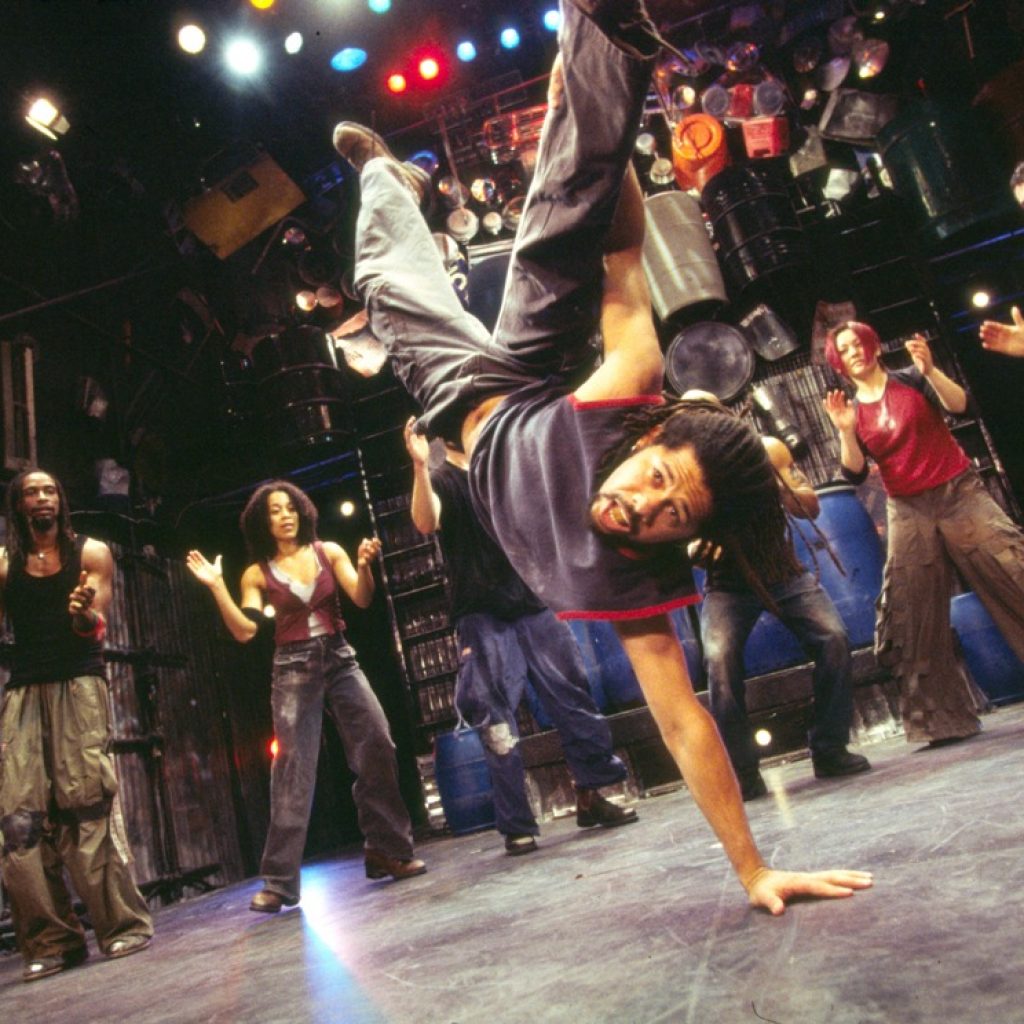 Take 8 strong-bodied percussion, acrobatic, dancing human beings and pair them with Zippo lighters, small brooms, large brooms, paper and plastic bags, basketballs, cans of all sizes and, oh yes, don't forget the kitchen sink and you have "Stomp". They almost defy you not to tap your toes, clap your hands, snap your fingers and laugh but you won't be able to help yourself eventually giving in to the rhythms they produce from the aforementioned items, and others, making their own kind of music.
This ensemble works so closely with each other that when they throw things high up and across on the stage you know the persons on the receiving end will catch that flying can or ball. You know when they swing sticks at each other no one will be hurt–at least not at this performance.
On a two tier sort of junkyard set they use every inch available to make sounds that make sense no matter what they are using. There is no sexism here as the two women do everything and anything plus a little more than the men do. They all climb up and all over the set, ring bells, make music in large tires, play newspapers as instruments, bang drums or use cans of all sizes as drums. They even have supermarket wagons dancing and making music. You keep on waiting, impatiently, to see what they will use next and how.
This cast uses every part of their body, whether it just be a hand or face gesture or all out stomping of their feet while clapping their hands to make you laugh and you will be surprised how often that will be. When was the last time a Zippo lighter made you laugh out loud?
The troupe is so equal in what they do it wouldn't be fair to point out any one performer and, in most cases, because they don't provide pictures next to their names in the Playbill, it actually is hard to attach a name to a performer. These people don't speak a word while 2 add a mouth oriented sound effect now and then but they earn your applause, and respect, not only for what they do with what is handed them but the sheer energy they expend and how they earnestly get the audience involved. Whether ten or twenty years from now their body will pay for all they are doing with it on stage remains to be seen but they give you their all.
Running time: One hour and forty minutes without an intermission.
Coming next to the Adrienne Arsht Center on New Year's Day is the touring company of "Mary Poppins" followed by "Les Miserables" February 26, "Priscilla Queen of the Desert" April 2 and "Memphis" on May 7.
On December 18 at the Broward Performing Arts Center "Sister Act"