Review: Much Ado About Nothing.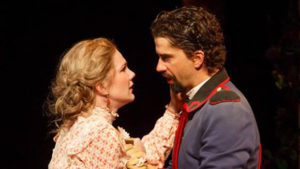 Photo by Joan Marcus.
Review by Dianna Risseto.
Much Ado About Nothing has always been one of my favorite Shakespearean plays. It just seems so modern—it is so easy to follow the story—and filled with the most delicious dialogue and jokes. And, to top it off, not only do more than one couple fall in love, but nobody dies. Add the stunning setting of Central Park at dusk to the mix and the result is one absolutely glorious production playing right now with the Public's stunning and laugh-out loud funny rendition directed by Jack O'Brien.
In the Bard's tale of the Battle of the Sexes, Lily Rabe, as the intelligent, independent, headstrong Beatrice, is absolutely brilliant. With her raspy voice and comic timing, the beautiful Rabe is the perfect Shakespearean comedic heroine. Beatrice insists she never needs a man and scoffs at the idea of love. Hamish Linklater is Benadict, the unlikely suitor that their mutual friends set up in a trap to fall in love. Along the way, much sparring happens and insults are traded with Rabe and Linklater's chemistry absolutely palpable. Of course, we know how the story will end, and it is a pure joy watching them get there.
Brian Stokes Mitchell is terrific as Don Pedro, and, just when we thought the show couldn't be lovelier, he sang. John Glover, as Beatrice's aging uncle Leonato, reminds audiences that he can do pretty much anything. Other standouts are Jack Cutmore-Scott as the young, romantic Claudio and  Ismenia Mendes as his love interest, Hero.
The Sicilian set (John Lee Beatty) is gorgeous and can be likened  to being at an Epcot Center showcase of Italy, as are the romantic costumes (Jane Greenwood) and original music (David Yazbek.) This production is truly a delight for all senses.