Review: Broadway By The Year 1961.
We welcome our new columnist Diana Rissetto. She will be doing reviews on fashion, theater and cabaret.
Photo by Maryann Lopinto.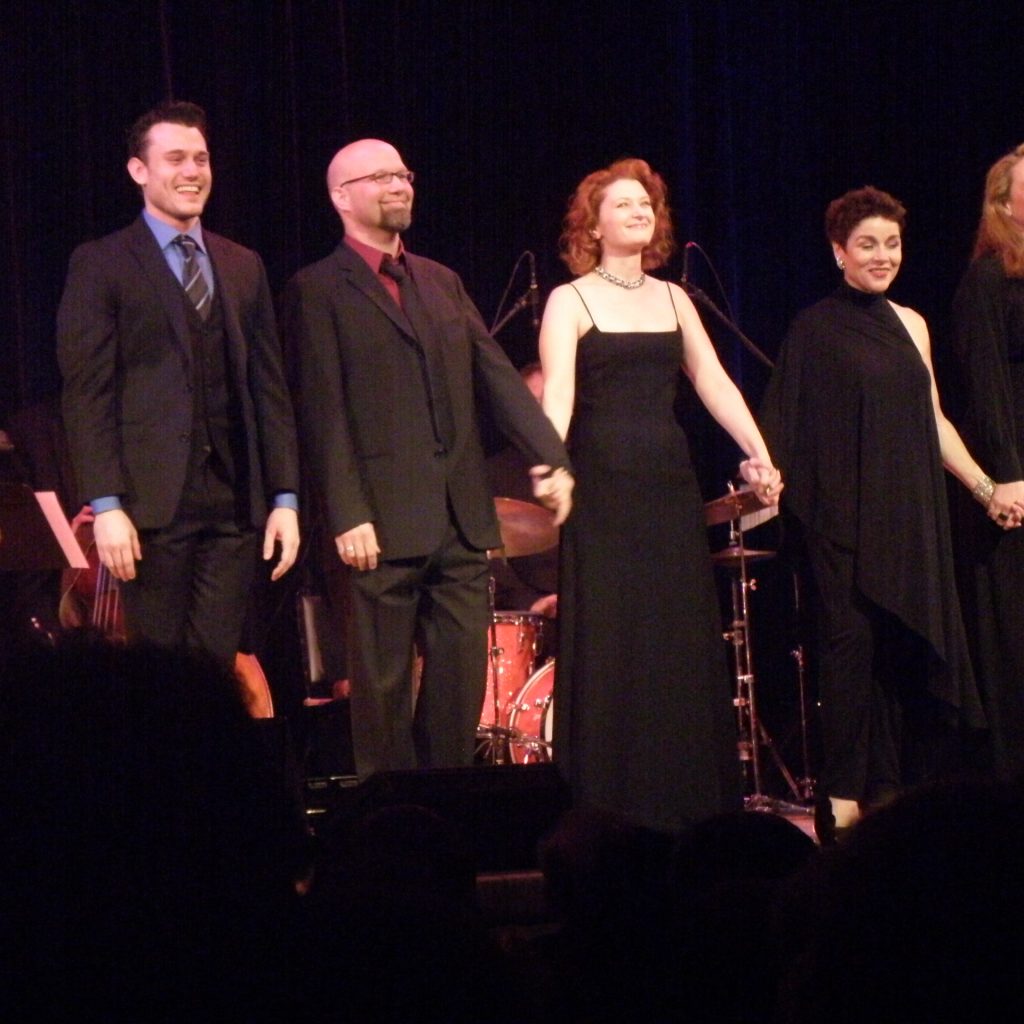 If there is one thing that is completely impossible to do, it is to see "Brotherhood of Men" from How to Succeed in Business Without Really Trying performed and not sing the song to yourself for the rest of the night. (And since I've said that, I bet you are doing that just now!)

The number, led by Jeffry Denman, concluded Monday's concert at Town Hall, which was full of songs from classic favorite musicals and other more obscure ones…(which I looked-up as soon as I got home to hear more of!)

The evening featured Christine Andreas, Kerry O'Malley, Emily Skinner, Scott Coulter, Jeffry Denman, Erin Denman and the Broadway by the Year Chorus.

Christine Andreas and the Broadway by the Year Chorus kicked-off the night with "Love Makes the World Go 'Round" from Carnival, which was followed by "Comes Once in a Lifetime" from Comden and Green's Subways are for Sleeping. The evening's MC Scott Siegel treated us to several tidbits about the show. It opened to quite negative reviews, so the show's producer and press agent went around the city and found everyday citizens with names of popular critics of the day and took their photos to accompany rave reviews. The publicity stint helped the show run…for several months. The show also featured a young Valerie Harper, who has been in the news lately since announcing her terminal battle with cancer.

1961 was a year of some risky theatre, such as the musical Kwamina, an interracial love story of a female doctor and a native of Africa. Kerry O'Malley, who is absolutely lovely, sang two songs from the show with great emotion and passion.

Scott Coulter's voice is fantastic, and his "Her Face" from Carnival was soaring.

Denman, who was Matthew Broderick's understudy in the H2$ of the 90's, stepped-into J. Pierpont's shoes for "I Believe in You", accompanied by the men of the chorus.

Emily Skinner is hilarious, and proves that she doesn't need to be half of any "side show" in order to be a star. Her "Why Do The Wrong People Travel?" from Sail Away was delightful, complete with Honey Boo Boo and Kardashian references.

The BBTY chorus performed the title song of Milk and Honey, a story set in Israel, and one of the ones I couldn't wait to go home and listen to and read about!

One of my favorite numbers of the evening was "When You Want Me" from Sail Away, performed by real-life couple Erin Denman and Jeffry Denman. (I would love to know if they danced like that at their wedding!)

Before Jeffry Denman and the rest of the "brotherhood" came-out to end the show, Christine Andreas sang a glorious "Adrift on a Star (and she most certainly looked and sounded like one!)" from The Happiest Girl in the World.

It was a lovely evening, and as Broadway by the Year always does, reminds us that every single year holds numerous of memorable musical moments and songs…how wonderful it is to revisit and never forget them!