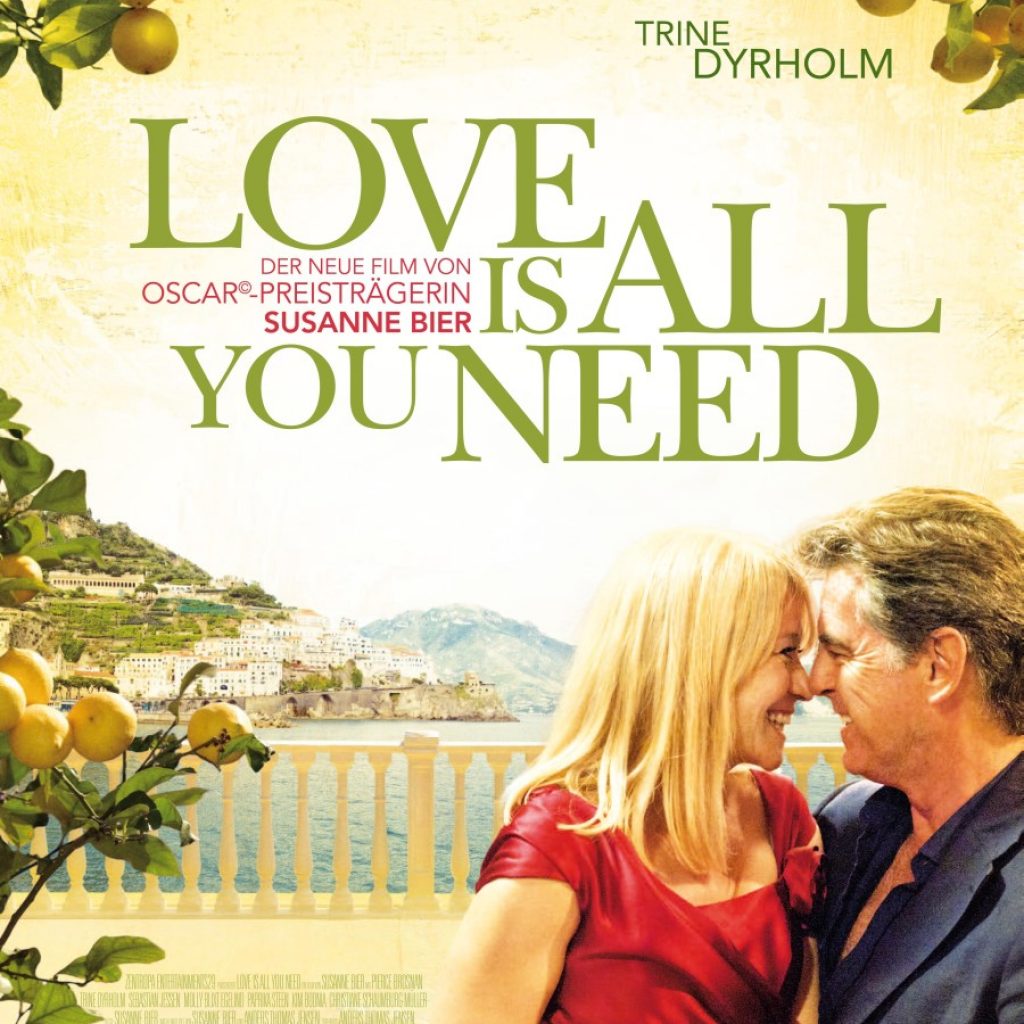 "Love Is All You Need" is a beautiful movie. Starting with the opening scene where you see beautiful Danish actress Trine Dyrholm, who is absolute perfection and an absolute joy to watch as, from head to toe, she gives meaning to each gesture and is mesmerizing on screen to her co-star Pierce Brosnan, who is not only aging handsomely but also delivers a strong performance allowing her to shine.
Ida (Dyrholm) has just finished her last chemo dose and, being a hairdresser, has fixed herself a great wig to wear to her daughter Astrid's (Molly Blixt Egelind) wedding in Italy and approaching the airport she meets the father of the groom Patrick, (Sebastian Jessen) Philip, (Brosnan) by backing her car into his. It isn't long before Ida and Philip realize they are becoming family. Philip had lost his wife years earlier in a senseless accident while Ida, coming home from the hospital that day, found her husband Leif (Kim Bodnia) having sex with his accountant Tilde (Christiane Schaumburg-Muller) who brings her to the wedding.
The wedding is going to be held in Philip's country home. Beautiful is the only word to use to describe the seaside town of Sorrento as the camera lingers over the water, coves, sunrises, sunsets, lemon tree groves, houses and Dyrholm's face and body. Philip's sister-in-law, Benedikte, (Paprika Steen) has been in love with him and provides humor no matter how much it humiliates her.
"Love Is All You Need" is a romantic comedy that is filled with lots of romance supplied by Dyrholm and Brosnan and the comedy by Schaumburg-Muller, Steen and Bodnia. Micky Skeel Hansen as the brother of the bride, along with the other young actor, provide the ups and downs needed in a film of this genre and it was surprising to me that the audience was so surprised, and expressed it, at one turn of events.
The film was directed by Susanne Bier who also wrote the screenplay with Anders Thomas Jensen and a deep bow to the director of photography Morten Soborg. The film will make you want to get on the next plane to Sorrento. Opening with Dean Martin singing "That's Amore" it is heard constantly through the film blending in with the scenery.
Bald, wearing a wig, having her own short hair, dressed in red or coming out of the water completely nude, Trine Dyrholm is a sight to behold. Hopefully this movie will get a much wider play to introduce her to a larger audience while they watch a touching romantic comedy. See it–see her!