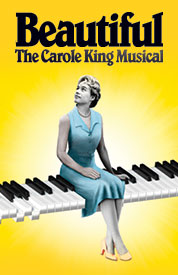 Before Carole King became a famous singer she wrote the songs that changed the sound of Rock music. A teen with a deep passion  who made her dreams come true and wrote  " Pleasant Valley Sunday" " Natural Woman" and many more.
The new show on Broadway chronicle's her life from a 16 year old with a dream up until she becomes a super star performer. If you grew up listening to the music of Carole King you wont want to miss this incredible show. If you were not part of this generation you will want to learn about her now and you will become a fan of her incredible songs.
Beautiful is a passionate show about a true legend and it takes you on a thrill ride through her incredible music. It will take everything you have not to jump out of your seat and dance with this talented cast. The show has soul and it is a thrill from start to finish.
The most interesting thing about the show is that she wrote so many hits that made other stars famous from Aretha Franklin, The Monkees, The Shirelles. Just incredible! As a young child my Mother was a giant fan of Carole King as she used to blast Tapestry in our apartment but I never knew her history and found it very interesting. As someone who loves her music this show was a must see!
The entire cast work well together and I was really in love with the dance numbers from the earlier MOTOWN days with the Drifters " Some Kind of Wonderful"   " The Loca-motion" and " One Fine Day" When I was a small child my school bus driver played the oldies channel and I remember all of these songs as well. I never knew however that Carole Klein (changed to King)  a nice Jewish girl from Brooklyn wrote the music!
Corine Cohen