Podcast Review: "A New Brain" Gallery Players.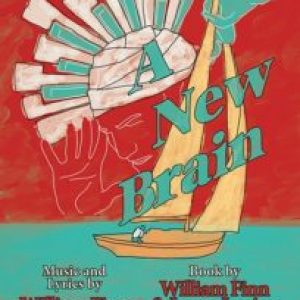 January 27 – February 18, 2018
Music and Lyrics by William Finn
Book by William Finn and James Lapine
By the Tony Award-winning authors of Falsettos, this autobiographical musical deals directly with the writer's own harrowing personal experience with arteriovenous malformation and the healing power of art. The hero, Gordon, worries that he may not live to complete his work, and his near death experience encourages him to re-evaluate and better appreciate the people and relationships in his life. William Finn wrote many of the songs soon after his release from the hospital.
Performance Schedule
Saturday, January 27 @ 8pm
Sunday, January 28 @ 3pm
Thursday, February 1 @ 8pm
Friday, February 2 @ 8pm
Saturday, February 3 @ 8pm
Sunday, February 4 @ 3pm
Thursday, February 8 @ 8pm
Friday, February 9 @ 8pm
Saturday, February 10 @ 2pm
Saturday, February 10 @ 8pm
Sunday, February 11 @ 3pm
Thursday, February 15 @ 8pm
Friday, February 16 @ 8pm
Saturday, February 17 @ 2pm
Saturday, February 17 @ 8pm
Sunday, February 18 @ 3pm
The Staff
Executive Producer: Mark Harborth
Director of Production: Scott Andrew Cally
Company Manager: Justine McLaughlin
Director: Barrie Gelles
Music Director: Sobina Chi
Choreographer: Barrie Gelles
Scenic Designer: Jason Pointek
Lighting Designer: Scott Andrew Cally
Costume Designer: Hayley Zimmerman
Props Designer: Gabrielle Giacomo
Production Stage Manager: Dominic Cuskern
Assistant Stage Manager: Emily LaRosa
The Cast
Justine Campbell-Elliott – Ensemble
Laura Cetti – Homeless Lady
Ashley Harris – Nancy D. / Featured Dancer
Max Joseph* – Ensemble / Featured Dancer
Jesse Manocherian* – Gordon
Sharae Moultrie – Ensemble
Adam David Pearce – Dr. Jafar
Justin Phillips – Richard
Alyson Leigh Rosenfeld* – Rhoda
Jim Roumeles* – Mr. Bungee
Anette Michelle Sanders* – Mimi
Samantha Schiffman* – Waitress / Featured Dancer
Gerardo Vallejo – Roger
Christy Yin – Ensemble / Featured Dancer
Stewart Yu – Minister