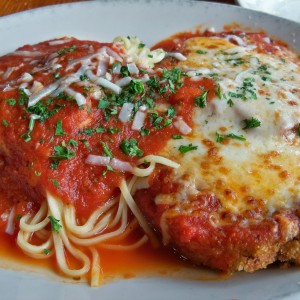 NYC affordable deals, Undercover!
http://www.cucinadipesce.com/menu.html
We are starting a new series called under-cover critic. Each month, I will go to a restaurant undercover and write about them.  The first issue of Under Cover critic, takes place at Cucina di Pesce. I used to go there years ago whenever I was in the East Village seeing a show. They have a great value dinner if you can stand to dine between 4-6:30.
There are a ton of choices but do yourself a favor and get the Eggplant parm, among the best I have ever tasted. The meal is a bargain:
You get soup, salad and an entree for $14.00 per person. The soup and salad are edible but the Eggplant was scrumptious and there was a large portion. ( I was starving as I had no time for lunch) the entrees also come with a nice side of pasta with either marinara or butter sauce. I enjoyed the pasta and the eggplant. The soup was carrot/tomato and it was good.  The service was exceptional and the special includes a free glass of either house white or red. This dinner was a good value and I will be a regular as I loved the eggplant parm.
If you don't drink, it comes with coffee or tea. The red wine went well with the eggplant and red sauce. I am craving it now!
Please write to us and let us know places you want us to review. NYC only please.
They don't take visa or mastercard so be sure to bring cash. ( The only negative)
Dinner for two with wine and three courses ($40 with tip)
They also had an amazing hummus with bread which comes with the dinner. If it were closer, I would be there weekly!
East 4th between 2nd and 3rd.
They are open from 4 till 11.
Corine Cohen
http://www.cucinadipesce.com/menu.html
(Avoid the  Trout)