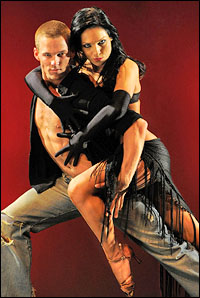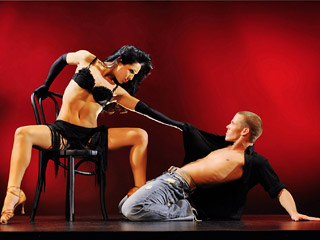 Sharna and the rest of the DWTS dancers. Photo supplied by ABC TV. Other photos supplied by Burn The Floor On Broadway.
Corine Cohen: Sharna: I saw you in the incredible show BURN THE FLOOR On BROADWAY and you were all fantastic. Now you and Sasha are dancing on DWTS In LA. How exciting is it?
Sharna Burgess: It is so exciting! It's such an amazing production with incredible people running it. The talent isn't just in the dancing, but also everybody behind the scenes and the camera making every week exciting and fresh. I love being a part of a show that brings not only high quality dance and entertainment, but also shows the public that it's never too late to learn and have fun with it.
Do you have a favorite dance?
Hmmm its really hard to pick a favorite! As a dancer I love the Paso Doble for it's passion and intensity, the same reasons I love the Argentine Tango, its just so sexy! And the Rumba, getting emotional with dance is one of my favourite things about it. As a choreographer I love working with either the Cha Cha or the Rumba. Cha Cha for its versatility and range, you can do it to nearly any song, give it any character you want and get really creative. The Rumba I love to mix with a little contemporary to give it a modern edge. Rumba does not always have to be a love story, but its definitely emotional and deep.
Will Burn The Floor return to Broadway?
BTF is definitely planning on another Broadway run with an entirely new show. Jason Gilkison is such an amazing creative talent and has endless ideas. I am super excited for his new show, everything he does is special. Hopefully I can make it back to Broadway too, I just have to see where it fits in.
We would love to see you back on Broadway! Any funny experiences with the stars you can share?
Thank you! LOL let me think… there are many funny things on a daily basis.
When did you decide you wanted to become a dancer?
I started dancing at 6 but I think it wasn't until I was 17 that I knew that this was it for me, nothing else mattered. Dancing was no longer just something I did, it was who I am. As a younger teenager it was very much my parents pushing me, I just went where I was told because that's the way it always was, but somewhere along the line it became my choice, my passion, MY dream. So I moved to London at 18 on my own to dedicate everything I had to my career. Best move I ever made!
Broadway Showbiz wants to know what is your motivation in dance?
Dancing and choreographing for me is satisfying a need, almost like an addiction. It's something I don't really have a choice in, its simply who I am to my very core. It's my therapy, my release, my way of expressing the things I cant say. I eat, breathe and sleep dance and that's the way I like it. I only wish to share what I love with the world, to have people watch me or my work, forget their troubles and get lost in the story I am telling. I am blessed to be so successful in this industry and am grateful everyday that I get to do what I love for a living.
Do you miss Australia? ALL THE TIME!!!! I may be biased but there is no place like home. I miss my family and friends, and all the little things like my favorite restaurants and beaches. In saying that I think my life will be permanently in the states. I've set up a life here with my career and my relationship, and the work is generally here in LA or NY. And I am going to make a move into hosting and presenting so LA is where it's right for me. At least I get the warm weather here!
Do you plan on trying to dance on Broadway again in the near future?
I would love to should time and schedules allow it. I would really love to go back there with Burn The Floor.
How many hours a day do you practice each dance?
It changes depending on the difficulty of the number. Generally we do 3 days of between 6-8 hrs a day. Then camera blocking and band rehearsal and the rest. A lot of work goes into it.
Will they have another Broadway style dance off?
I am not sure but I hope so. I love that they bring in other styles. This coming week is Motown and we are bringing back some really classic steps… think Watusi, the jerk, the potato and a few more.
When you were in NYC did you get a chance to see any of the other Broadway shows and if so which ones did you see?
I did I saw quite a few. My ultimate favorite was Rock of Ages. But of course being a rock chick I would love that one. I also saw Chicago, The Toxic Avenger, Wicked, Lion King, and Mary Poppins. I wish I saw In the Heights I heard amazing things about that production!
Sharna Burgess can be found dancing on DWTS on both Monday and Tuesday nights on ABC. She was incredible in BURN THE FLOOR on Broadway. We hope to see her on Broadway in the near future and wish her much success in her dancing career.