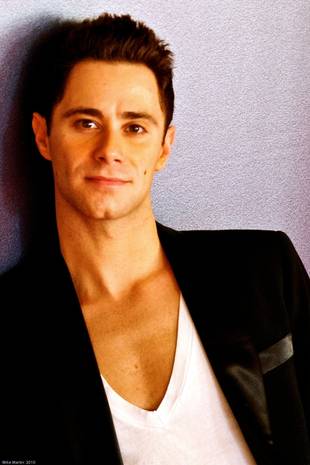 Corine Dana Cohen: Thanks for doing this interview. I have been a fan of yours since seeing you in the hit Broadway show " Burn The Floor" and followed you when you were on DWTS. Congratulations on being on the show. You are such an incredible dancer! Can you tell Broadwayshowbiz readers what it is like to be on DWTS? It must be so exciting!How many hours do you train to be on DWTS?
Sasha Farber: The Hours change every week , it all depends on the number we are performing , and artist we are dancing for, but most weeks it's 4 times a week , and 4 /5 hours a day. It's important to keep your mind and body active even when your not dancing, mental practice is also something that I do, I'm always dancing, even when I'm having dinner. My brain is always on the move.
Corine Cohen: Does the cast hang out together after the show?
Sasha Farber:Sure we always like to hang out together after the shows , Its just a tight group of people. Most weeks on Monday's We like to go to the grove and have drinks there after the filming.
Corine Cohen:Are you all on strict diets or do you eat anything you want because you dance all day long?
Sasha Farber: I think for me personally it's very important to eat the right foods , and everyone's body is different , but to get the best performance out of myself; I have to start from the second I wake up on a show day, and that means to eat the right Foods from the get go.
Corine Cohen:What goes on backstage? Any funny stories you can share?
Sasha Farber:There are always funny stories,it's crazy what goes on backstage, all the people that make the show happen , from wardrobe to production, to the producers to the management it's amazing how these guys all work together and produce the NO.1 show in America. It's a very demanding competition and everyone wants to win, so this is going to be one of the best , because it really is the best of the best!
Corine Cohen:I loved your performance as a lead in" BURN THE FLOOR" what was it like to do the show on Broadway and do you think the show will ever return to Broadway after the tour?
Sasha Farber: It was an amazing feeling to be on Broadway , who would of thought that a ballroom show would make it to Broadway , and the best part was that we kept getting extended and extended, people just loved it over there!
We had the likes of Jennifer Lopez and Marc Anthony , Matt Damon , and the list goes on. One Reviewer came to the show and compared me to the legendary Ninjinsky, A Russian ballet dancer who was one of the best in the world, and to make that even better . Jerome Robbins who everyone knows was one of the biggest dancers on Broadway , and produced most of the best dance movies of all time, he was an absolute legend at what he did. His niece who came to the show , and she contacted me after the show and said that Jerome Robbins would have loved my dancing and that I would have made him proud. Which to me was one of the best things someone could have said to me!
Broadway was a tough run , and it separated the boys from the men,especially with our show , which was 2 hours of intense dancing. But I cherished every second I got to be on that stage. And if it does go back to Broadway I would love to do it again.
Corine Cohen:When did you start dancing and how does it feel to be on one of the most popular TV shows of all time? Well, it is to me! I love the show and can't do anything on Monday and Tuesday nights for the entire season.
Sasha Farber: I started dancing to pick up girls. After school there were always girls standing outside of the building next to my school , so I though it was time to make my move. At first it was just for fun, and I would always get in trouble from the dance teacher for joking around and making people laugh. But after winning my first national championship at the age of 14, I decided to make it my goal to be the best I can be.
I represented Australia in the world championship , where I was placed 8th.
I was also one of the featured dancers for the closing ceremony of the Olympic games in Australia.
I was also a pro on the Australian Dancing With The Stars , which I really enjoyed.
I love to choreograph, and to tell a story through dance is the best feeling.
There is nothing better than seeing someone transform right in front of your eyes.
I have toured the world and seen places that I never thought existed and performed at some of the most prestigious theatres in the world. I also just came back from India where I did the Indian DWTS.
But nothing can compare to what I am doing at the moment , being in the troupe is great and I get to perform with some of the greatest artists, and the way I look at it, is I can't get eliminated 🙂
I'm so blessed and lucky to be apart of this amazing group of people.
Each week I dance on the show and it is very surreal to me , I really take in every second and every minute.
Corine Cohen: What was your favorite thing to do when you lived in New York? Did you get a chance to see some of the other Broadway shows? Thank you so much for doing this interview. We can't wait for your new season to start. I love when you all do TANGO as it is the dance of love. Any ideas what night they will be doing Tango?
Sasha Farber: I loved New York, my sister lives in Brooklyn with her family , so I would say that was my favorite thing to do is visit her, because if not for her, I don't think that I would still be dancing.
We saw a lot of shows, but it was also very hard because we all had the same schedule, but after the show we would all go bowling , and compete with the other shows.
That was fun!
Corine Cohen: Catch Sasha Farber this Tuesday with the Dance Troupe on DANCING WITH THE STARS. The season starts this Monday at 8. Please also check back to Broadway Showbiz where we will be writing about
the season and hopefully there will be more reviews with cast members from the show.