HELLO DOLLY… IT'S SO NICE TO HAVE YOU BACK WHERE YOU BELONG!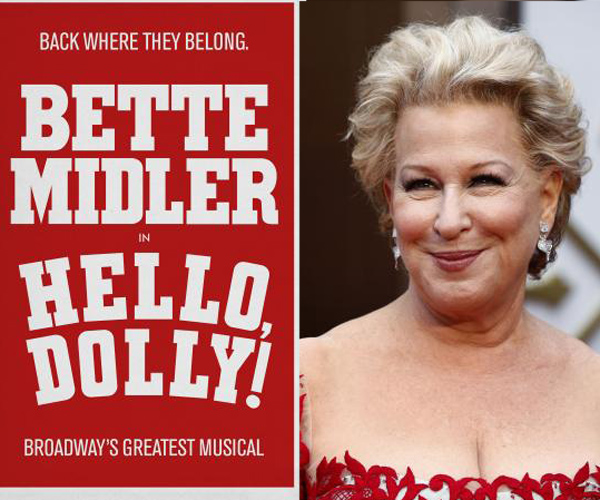 I love theater and have been covering it for over 15 years, and in my lifetime I have never seen Hello, Dolly on Broadway until last night. I never saw the original as I was not born, so I watched the movie last week for the first time to prepare for the musical currently starring with the divine Bette Midler as Dolly Gallagher Levi. Bette is very funny in the role and brings a sweet, quirky quality to the role. She is fabulous and adorable, and I wanted to pinch her! Kate Baldwin is Irene Malloy and has the voice of an angel and is a pleasure to watch; she deserves a nomination for her incredible singing voice and charm. Gavin Creel is perfection. He is a great singer and dancer and charming to watch! Newcomer Beanie Feldstein is bubbly, strange and cute as Minnie Fay; she is hilarious she has a doe-eyed charm and a warm quality that is lovely in the role.
Bette Midler is one of my favorite actresses, so it was a life changing experience at the theater for me. When I came home, I was sobbing from the sheer beauty of the experience. The same thing happened when I saw Gavin in " Thoroughly Modern Millie" many years ago.  The lavish, Choreography by Warren Carlyle is unique. I do feel the dancers need to get a special shout out as this production was unique because of their incredible energy and skills. Dolly is a delightful show and a pleasure to watch in these troubling times. In, addition Jennifer Simard who was underutilized in this show did have a funny but small role as Ernestina in the second act. I wish they could show off her skills but there are no small parts as they say and she was wonderful.
If you like a good melody a song you can remember. Incredible sets, costumes and perfect casting you must run and buy tickets to this sound production. I was moved beyond words.
Corine Cohen for Broadway Showbiz
They also have $39 tickets to see Donna Murphy in the role on Tuesday's. I plan on going a second time to see Donna in the role.