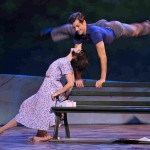 An American In Paris is a dance lovers dream. In fact, it is one of the best dance shows I have ever seen! If you love sublime choreography, incredible singing and music with a beautiful story, you will cry for joy for this perfect production.
The music by Ira and George Gershwin works perfectly with the dance. The show is about an American in Paris  Robert Fairchild (Jerry Mulligan)after serving in World War 2. He meets Lise,  played by  (Leanne Cox), and the two have instant chemistry. He pursues her, and she falls for him but tries to fight it as she sees another, (Henri) played by Max Von Essen. Also, she is hired to play a ballerina in a new work in Paris.
First, let's talk about Robert Fairchild, making his Broadway debut from NYC Ballet where he was a principal, dancer. The man is on my watch list. His dancing is pure perfection, and he can also sing well and act well. He is a triple threat and made me realize the incredible talent in this production. He will take your breath away and make you feel as if you are dreaming! He deserves a Drama Desk and Tony Award for his perfect dance!
Also impressive is Leanne Cope playing Lise Dassin, is a beautiful dancer and was trained at the  Royal Ballet. Her dream ballet was so gorgeous; I cried! These were tears of joy. She has such chemistry with Robert Fairchild and in my perfect world there would have been more dance. When they are dancing the show is flawless. She also deserves awards for her classic dance.
This has been a great season for dance on Broadway and Christopher Wheeldon does such a fantastic job I am hoping this show will run for years. I also hope more Broadway  Producers will bring more great dance shows to the great white way. An American In Paris is a stunning show that you won't want to miss. It is perfection and I suggest you go and see it.
Corine Cohen