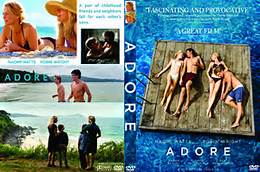 ADORE
Lil (Naomi Watts) and Roz (Robin Wright) have been best friends from childhood and still are after each has been married, with Lil now a widow and Roz's husband, Harold (Ben Mendelsohn) taking a job in Sidney expecting the family to join him. Lil has a son Ian (Xavier Samuel) and Roz a son, Tom (James Frecheville) both at the end of their teens ready to take their place in the world. In the sensual surroundings they live in, it is not long before each mother is having an affair with the other's son.
Based on a short story by Doris Lessing, and a screenplay written by Christopher Hampton, the latter doesn't know quite how to get into the story and the director, Anne Fontaine, seems afraid to tell a 2013 story, instead making it a film that Todd Haynes would have told in the 1990s or Douglas Sirk in the 1950s, both who would have gone deeper into the ramifications. While there is no darkness in the film neither is there a light touch that could have made it more meaningful. We have come a long way from "The Graduate" and Mrs. Robinson but "Adore" is stuck in that era.
The supporting players, such as Mendelson, a potential suitor her own age for Lil, Gary Sweet, and girlfriends for both boys played by Jessica Tovey, and Sophie Lowe, work hard but the writer and director don't seem to take the circumstances seriously and the shock value is almost nil. It is stuck between the possibility of farce and how lives would be affected by the adults decisions.
Watts, Wright, Samuel and Frecheville offer a lot of eye candy for both sexes and do the best they can with the material they are given.
The film moves too slowly at points and should have been cut by 10-15 minutes but the work of the cinematographer Christophe Beaucarne is worth the price of admission. The city of Seal Rocks should give him surfing rights for his lifetime.