Studio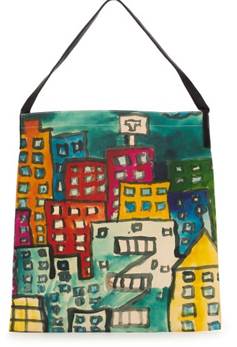 in a School, a non-profit which funds visual arts programs for thousands of NYC public school students, has partnered with Foley and Corinna for a limited edition set of totes designed by 4th and 5th graders inspired by NYC.
The bags, available starting today at www.foleyandcorinna.com
, retail for $98 with 75% of sales begin donated to fund Studio's future art programming.
Student artists
Jenci Lopez was at 4th grader at PS 145 in Manhattan when he created the artwork for the above bag.
About Studio in a School

For 37 years our community of professional artists has been teaching visual arts to hundreds of thousands of New York City children in under-served public schools, daycare centers, and community-based organizations. We offer quality art workshops where children explore their creativity and learn the joys and benefits of making art. Programs offered are for Pre-K through college, including internships for high school and college students. Studio is a nationally recognized leader in arts education. Join us and discover how Studio makes a difference.